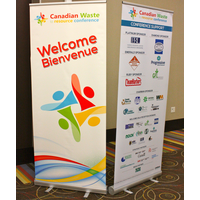 OWMA has partnered with the Environmental Research & Education Foundation of Canada (EREF-CA) to once again hold a Silent Auction October 9 and 10 at the Canadian Waste & Recycling Expo (CWRE) during the Canadian Waste to Resource Conference (CWRC, Toronto, Oct. 8 - 10, 2019)
Proceeds from this event supports solid waste research needs in Canada.
EREF-CA's Silent Auction affords donating companies greater visibility during the show and allows them to demonstrate their commitment to scientific research advancing the solid waste industry in Canada. Donations to the Auction consist of a variety of items, which could range from sporting event tickets to trips to electronics.
Register for the CWRC!
Learn more about sponsoring the CWRC
---